POGO Member, Second Institute of Oceanography (SIO, China) has received funding approval for a 6-day training course on "Principles and Applications of BGC-Argo". It is expected to have around 20 participants, mainly from China and other developing countries. It will take place from 15 – 20 November 2023.
Overview
The Array for Real-time Geostrophic Oceanography (Argo) program has created the first global ocean-observing network of the upper 2000m, already contributing to more than 2 million temperature-salinity profiles. The Argo program has also become the quintessence of establishing a global partnership in science cooperation, technical exchange, and data transparency. Human activities have altered the state of the ocean, leading to warming, acidification and deoxygenation, and the long-term global effects of these changes are difficult to predict by relying solely on current satellite remote sensing and traditional in situ observation techniques. The biogeochemical Argo (BGC-Argo) program, has been established since 2016, as part of Argo program, currently building a global, multidisciplinary ocean-observing network of autonomous Argo floats equipped with an extensive range of biogeochemical sensors. With large spatial coverage, high temporal sampling frequency, and high vertical resolution, the global BGC-Argo array will be capable of resolving complex, multi-scale biogeochemical phenomena, allowing characterization of biogeochemical provinces and biomes, and providing data for improvement of biogeochemical model performance, as well as the calibration and validation of satellite measurement systems.
This training course intends to help graduate students and early-career scientists from China and other developing countries, understand the principle of Argo and BGC-Argo, data access and visualization, and provide basic knowledge for data analysis and applications in oceanography. Besides, this training course also aims at promoting the BGC-Argo data application research in developing countries, encouraging more scientists to be involved in the BGC-Argo program and to deploy such floats as contributions to the global array.
Aims and Objectives
To introduce the Argo program and BGC-Argo program
To introduce the principles of Argo floats and biogeochemical sensors
To impart the knowledge of BGC-Argo data processing and interpretation
To enhance understanding of the applications of BGC-Argo data
Target Audience
Target audiences include, but are not limited to, graduate students, post-doc and early-career scientists.
Application requirements
Applicants should have a basic knowledge of oceanography and marine biogeochemistry
Basic working knowledge of English
Participants should preferably bring their own laptops
Important Dates
Applications are open during: 4 – 15 September 2023
Tentative announcement of selected participants: 15 – 17 September 2023
Course Dates: 15 – 20 November 2023
Application Information
Please complete the Application Form and send to xing@sio.org.cn
Financial Support Application
Limited financial support (on international travelling and hotels) from POGO is available to those applicants who meet the following criteria: From developing countries; Research experience in related fields; Basic working knowledge of oceanography. A gender balance will be considered for this financial support selection.
Course Fees
There are no fees for this course.
Travel and Accommodation
Participants should pay their own travel and accommodation costs, and the SIO will arrange the hotel booking.
Training Course Schedule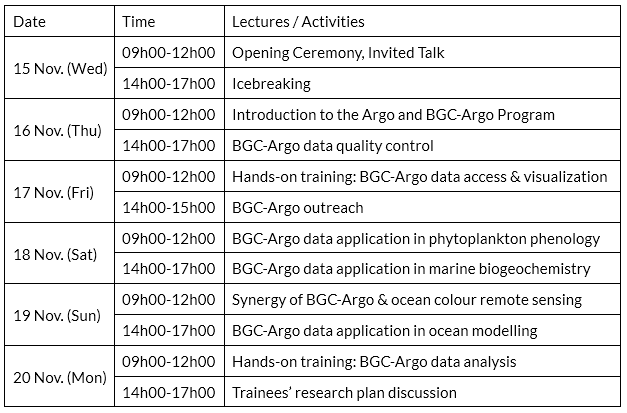 Coordinator:
Xiaogang Xing, Second Institute of Oceanography, MNR, China
Invited scientists:
Fei Chai, Xiamen University, China
Marin Cornec, Pacific Marine Environmental Laboratory, NOAA, USA
Yibin Huang, Xiamen University, China
Tanya Maurer, Monterey Bay Aquarium Research Institute, USA
Elena Terzić, Institute of Oceanology, Polish Academy of Sciences, Poland
Venue:
The training course will be held at Second Institute of Oceanography, MNR, Hangzhou, China.