NF-POGO Regional Training Programme on Marine Pollution and Biogeochemistry in coastal environments.
12th November – 25th November 2023
The LaMERE laboratory from the Department of Physics at University of Kara will host the 2023 NF-POGO Regional Training Programme on Marine Pollution and biogeochemistry in coastal zones.
This Nippon Foundation (NF) and Partnership for Observation of the Global Ocean (POGO) capacity development initiative will consist of an intensive training course aimed at early careers developing research on marine pollution and coastal biogeochemistry in Middle and Western Africa.
The 12-day training will include lectures, hands on exercises and a field trip focusing on Marine pollution, Numerical modelling of pollutants/microplastics transport, Statistics for marine pollution and biogeochemical data analyses, and Monitoring of EOVs and microplastics on surface sea water and sand beach.
Who can apply
Applications are open to early career scientists, technicians, postgraduate students (PhD or MSc) and post-doctoral researchers who are nationals of and involved in relevant fields of marine pollution and coastal biogeochemistry in Middle and Western Africa.
The training has no registration fees, and all participants will have transportation to/from fieldwork and meals during the training covered.
Application of participants with own funds for travel and/or accommodation expenses is highly encouraged.
Funding
A limited number of travel and/or accommodation grants will be available for participants who are nationals of and currently working in coastal countries of Middle and Western African regions (see list of eligible countries).
The grants WILL NOT cover expenses incurred by the fellow in their own nation (e.g., domestic travel, visa costs, personal insurance, medical expenses such as vaccines or COVID test)
Venue:
The 2023 NF-POGO Regional Training Programme on Sustainable Marine Resource Management will be held in Kara (University of Kara and at the Etoile de la Kozah Hotel), with a field trip to coastal area in Lome, Togo.
Application Process:
Please use this form to apply. Upload all required documents as pdf files. You will need to prepare a motivation letter explaining your interest in joining this training programme and how your institution/country will benefit from your participation. You will be required to upload a CV and one recommendation letter as individual pdf files. The recommendation letter MUST BE signed, dated, written in English and on institutional letterhead.
Only applications that are complete in ALL respects will be considered.
The Selection Committee will consider the following points:
Quality of the application;
Curriculum of the applicant;
Evidence that the training will lead to capacity development with potential lasting impact on regional observations.
The deadline to submit the application is 25th September 2023.
Contact: If you need any assistance, please contact Dr. Panassa Essowe (Email: panassaessowe@gmail.com )
Useful links: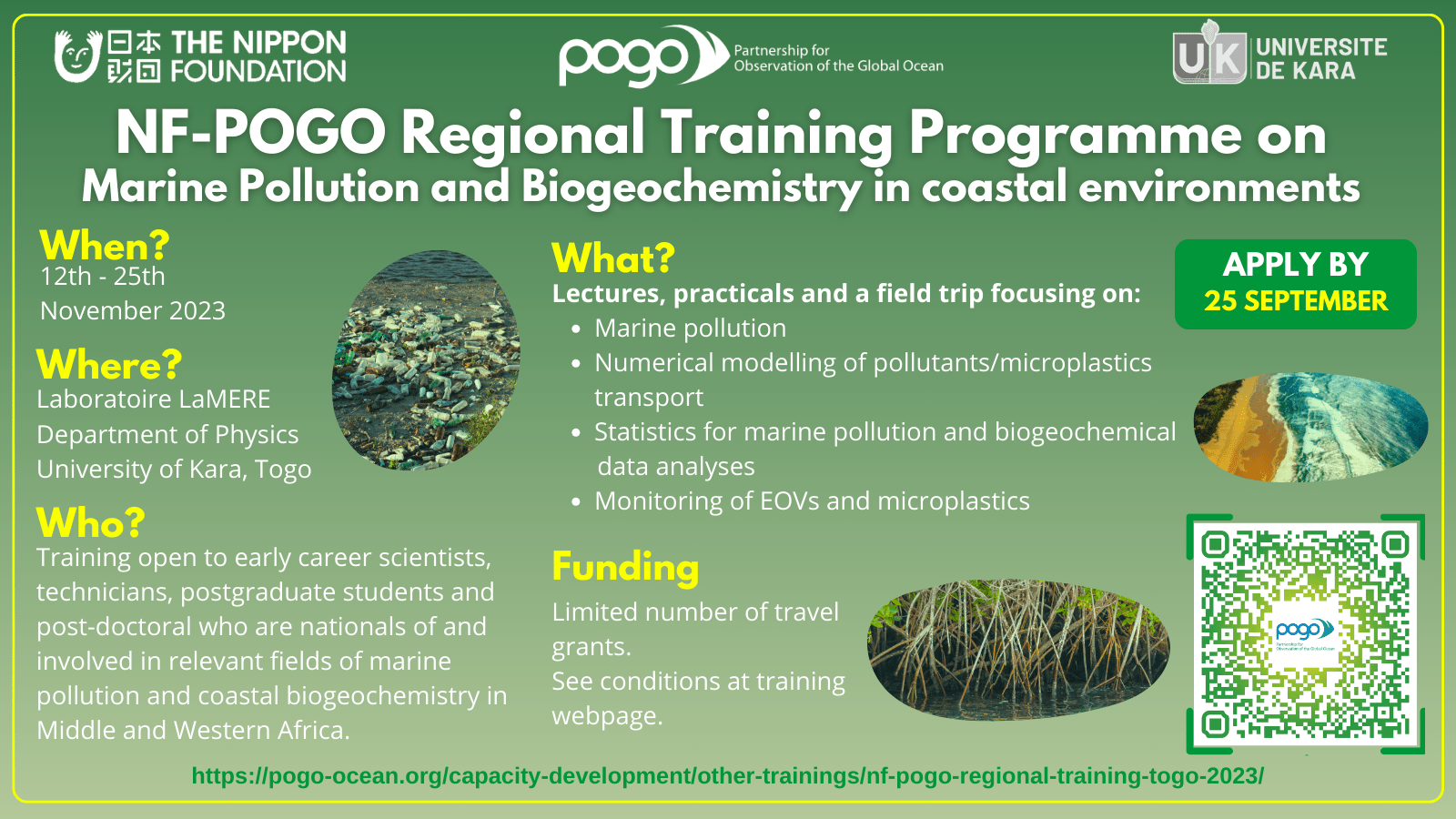 Year: 2023